TV Wall Mount Installation
Flat Screen TV Wall Mount Installation & Home Theater Installation Service
We will help you find the right blinds for your home and budget and schedule an in-home meeting to measure and project assessment. Once complete, you'll be provided an inclusive quote. Purchase your products and then have our professional installers perform the work in a timely manner.

TV Wall Mount Installation Service

This TV installation is for Wall mounting your TV on any type of wall: Sheet Rock, Dry Wall, Brick Wall, Concrete Wall and smooth Stone Wall.

An Electrical and cable outlet should be at the bottom of the wall. The componets like cable box, blu-Ray etc should be placed on a stand right below the TV or on a wall mounted shelf.

Home Theater Installation

Strategically place your Speakers for optimal Surround Sound.
Connect Receiver to your Audio/Video Devices.
Connect up to 4 free standing Speakers in the same room.
Speaker wires neatly arranged but not concealed.
Adjust Receiver Settings for Optimal Sound Quality.
Program Basic Functions on the remote control.
Remove packaging material and clean up.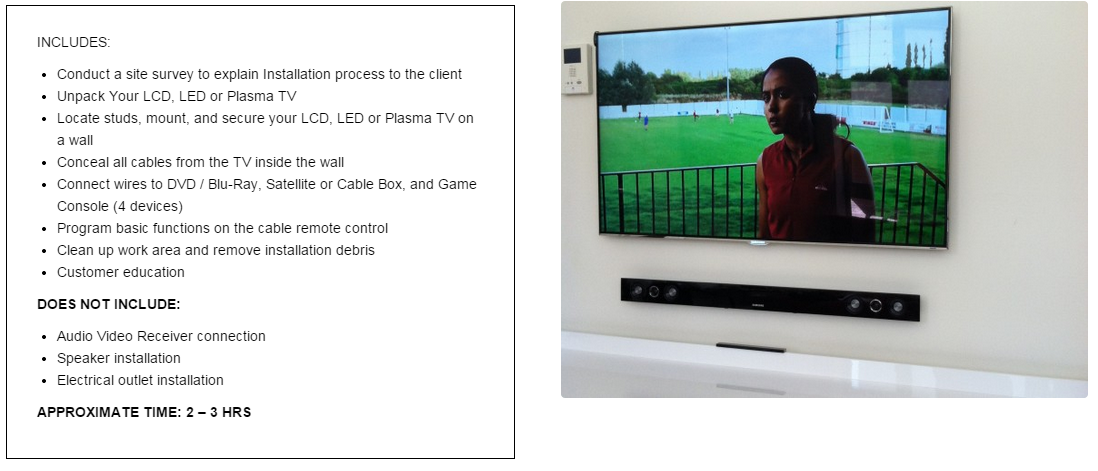 ---

---
info@ServiCuenca.com

---
+593 984348665
---